This year we celebrate 10 years of action in Kenya. To make this memorable, we organize a 2 weeks eco-safari on July 2013 (departure from Geneva). Details are availble only in French. If you are interest, don't hesitate to contact us.
---
e-solidarity
is a humanitarian concept and also a charity association, helping in education of Maasai children in East Africa.
We are living in what is called the era of information. E-solidarity tries to give a new dimension to the word information, a dimension more social and more human than technical.
e-solidarity,
is the voice of the association M.A.A. (Maasai Aid Association). Here are the last news from the ground :
- it tries to connect worldwide, the generosity and abundance of some ones with the distress and the absence of the minimum vital for living of some others, such as needy children.
- it brings information at the level of rural Maasai women aiming to break the wall of isolation and ignorance in which some communities still live in and which is the source of violation of Children and Women Rights (speaking about FGM – Female Genital Mutilations, early forced marriages, lack of primary education for child girls and so on).
---
" MAA adopts a baby elephant 3 years old, TANO, in " Sheldrick's elephant orphanage ", Nairobi, Kenya.
If you visit a day Nairobi, don't forget to pay a visit at " Sheldrick orphanage ". Opened to public only every day between 11 and 12 am, this orphans nursery is hosting around 20 baby elephants today, most of them having their mothers killed by poachers. Into the wild, a baby elephant unprotected can survive only 1 or days. Without mother's milk and surrounded by enemies (hyenas), the baby cannot survive for long.
It was not until 1987, and after the death of her husband, David, that Dame Daphne Sheldrick finally achieved success in rearing the infant elephants, the first being a 2 week old victim of poaching. By September 2008, over eighty infant African elephants had been successfully hand-reared by the David Sheldrick Wildlife Trust . Since the death of "Aisha" the orphaned elephants are discouraged from becoming too attached to just one person, but rather handled by a team of dedicated "Keepers" who can represent a "family" and who replace an orphan's lost elephant one. The "family", along with the milk formula, is an essential component to success in rearing the elephants who mirror humans in terms of emotion. This lesson, learnt by Dame Daphne Sheldrick the hard way in 1974, combined with techniques involving a combination of homeopathy and conventional medicine to treat the sick and wounded, plus 50 years of experience involving a good dose of emotion are responsible for the Trust's success in this field.
All the elephant orphans raised by the Trust are gradually rehabilitated back into the wild elephant community of Tsavo National Park when grown, a transition that is made at their own pace and in their own time, but usually taking approximately eight to ten years.
Please, have a look on their site http://www.sheldrickwildlifetrust.org/
and if you need more news about Tano, look at http://www.sheldrickwildlifetrust.org/asp/orphan_profile.asp?N=219
---
230 needy pupils are going to school in Kenya,
thanks to YOU, generous donors of MAA.
| | |
| --- | --- |
| Elerai Enkare primary | Matepes primary |
| Olgira primary | Rombo mixt primary |
A sample of our beneficiaries, 6 to 19 years old.
---
Rural Maasai women literacy project in 2012
With collaboration of " Giving Women " Switzerland club, we are runing since January 2012 a full literacy program in 2 villages (pilot project).
These are Oletukat (Narok) and Matepes (Rombo-Loitokitok area) villages and our classes are attended by around 80 women, old between 20 and 60 years and having each of them between 3 and 13 children.
This ambitious program aims to give basic skills to Maasai mothers or early married young girls, so that they are empowered and full citizen knowing how to read, write and count. In future the project will be scaled to include 6-10 villages.
Below are some photos of adult (women) classes.
Normally a woman teacher emplyed in the village public school is giving these private lessons using the primary school facility. Lessons take place 2h, 3 times a week.

Maasai women help a lot each other.

The first week was entirely spent in learning how to hold a pen !

The whole class in Matepes proud to be taken in photo.

MAA has also offered 10 new school desks in one village, because the women were so many and had to be sitted on the class floor.
---
New school class at

Engasakinoi

This village in Rombo area has no school at all. The young children must walk 3-4 hours to get to the nearest public school.

MAA has built a classroom for 50 pupils and 6 sanitaries. Here are some photos from inauguration ceremony. Later on 2012, MAA is seeking funds so that we can build 2 more classes.
---
Our campaign against FGM in Kenya, during 2011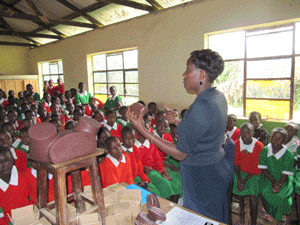 Severina, Maralal, Maasai girls, July 2011
---
Our campaign against FGM in Kenya, during 2010
Read more (french)
---
Our campaign against FGM in Kenya, during 2009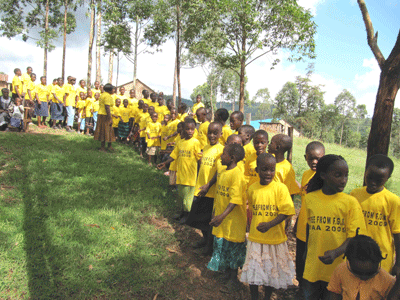 Kisii, Nyankeyio, 2009
---
M.A.A. is helping Maasai mothers by selling their traditional hand made beadwork. You can buy some of that jewllery if you contact us :